Best Software Testing Company
in London, UK
Ezimax Technologies Pvt. Ltd, a leading software development and testing company based in London, UK, offers a range of software testing services and solutions for web and mobile applications to improve product quality. In this way we can identify the important characteristics of the application that is being developed. Software testing is essential to identify bugs and errors that can infiltrate your programming code that affect its life cycle and programing structure. These errors are then corrected to ensure the desired quality of the product.
Ezimax Technologies offers quality assurance and testing services in London, UK, to help you improve your online presence, generate quality customers and sales that will improve your business. We take a professional, consistent and comprehensive approach to eliminating bugs, errors and other issues that affect the performance of your websites. With quality assurance services Ezimax Technologies have been helpful for small, medium and large industries as they increase website visibility and generate huge traffic.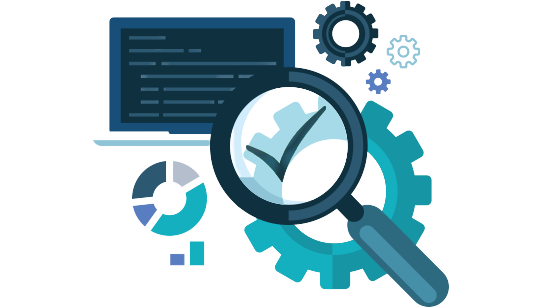 Software Testing is Important?
When a product does not satisfy the customer, the consumer takes a long time to switch to another product. Many times, the testing process is skipped and the product is released to the market. But there is no longevity for the product on the market as it simply fails or crashes due to network load. Software testing services ensures that you overcome all of these problems before your product is launched so that you can make maximum profits and keep your customer base. The following points indicate the importance of software testing of any digital product-
It ensures the proper functioning of the software or application which can help the product create a greater impact on the market.
The quality of the product is further improved as it checks for potential external malware that damage it.
It helps to get good feedback and satisfaction from the customer base.
Any risk of loss of the product is eliminated in advance.
At the end, it pays off, as fixing bugs later may cost you more than trying first.
Software testing is critical for the application to function effectively and to ensure that it achieves the desired results.
We are one of the best software testing companies in London, UK providing high quality software testing services.
Types of Software Testing Services Provide by Ezimax Technologies
Web Applications
Web Applications
Today, web applications are used by companies in all fields. But the proper functioning of the web application is a major concern. We offer our web application testing services, where our software testers make sure your application meets all criteria such as functionality, usability, compatibility and security. This ensures the performance of the business software.
Mobile Apps
Mobile Apps
Mobile apps have become common these days. According to global statistics, anyone with a mobile device uses at least four mobile applications. This allows you to fully test your application before hosting it. You also want to avoid losing your customer base. We offer high quality mobile application testing services in UK where our software testers test your application to update features on different hardware and operating systems.
Performance Test
Performance Test
After testing all important functions, the software testers will check the overall performance of the software. We perform stress tests to determine the capacity of your software under high load conditions and fluctuating internet speeds. This gives you the opportunity to analyse the behaviour of your application and correct everything you need to know.
Virtual Reality and Games Apps Test
Virtual Reality and Games Apps Test
Virtual reality (VR) technology in games has changed the way technology is used. Modified in many games to enhance the gaming experience. Understanding the scope of VR and gaming experiments is critical. Our goal is to provide users with this information. We try to offer complete solutions for testing virtual reality games. We have all the VR skills needed for the testing process.
We focus on key test features such as performance, hardware, compatibility, and accessibility. We are a leading software testing company in London offering testing services to all operating systems including Oculus, Vive, Android, iOS and Web VR.
Why Ezimax Technologies For Software Testing Services
As you may already know, both software and application testing go hand in hand to fix device bugs. Software and program tests are equally important for the proper functioning of the device. Ezimax Technology is the best software testing services company in London, putting at your disposal the best specialists who can maintain your device optimally and test the performance of your devices by checking for errors. You can use the services of the best software testing companies in the UK who will fix bugs on your device after testing the software and applications.
Software testing is as important as developing software. Going through the process, your software becomes more user-friendly and cost-effective which will help you get more customers in less time.
Ezimax provides you with the best software qa testing services at less price but with higher quality. Now you must choose whether to take software QA testing services from us.
NEED A CONSULTATION
Drop us a line!
We are here to answer your question 24x7
Give us a call or drop your message by anytime, we endeavour to answer all enquiries within 24 hours on business days. We will be happy to answer your questions.
Contact Details
Email:
uk.sales@ezimaxtechnologies.com
Skype:
sanjeev.ezimax@gmail.com
Our Phone:
+44 (757) 665-5535 (UK)
+91 9811635908 (India)